Custom LARGE Diamond Painting Kits
What's Inside the Kit?

Premium Soft Velvet canvas
Poured Glue - Say bye to double tape
Every Kit has AB Diamonds
2 Trays
1 Tweezers
2 Diamond Painting pens
3 piece Multi-diamond applicators
2 Pots of wax (6 Wax Pads)
Instructions manual
Sizes bigger than 30x40 are Box packed
Shipping

Shipping is Free All over the World

Shipping times:

| | |
| --- | --- |
| United States | 12-20 days |
| Australia | 13-20 days |
| Canada | 14-20 days |
| United Kingdom | 14-25 days |
| Finland, Sweden, Norway | 12-20 days |
| France, Netherlands | 10-20 days |
| Rest of the World | 12-60 days |

 

Orders will take 2 - 3 days processing time before shipping. Custom orders can take 3 - 5 days processing time. Factors such as bottlenecks in shipping and delays at customs may impact delivery time. For a faster delivery of your order, we offer Paid Special Shipping as well.
Sizes bigger than 30x40cm are Box packed. Sizes bigger than 70x70cm cannot b shipped rolled under standard shipping so they are shipped folded & well packed. Bigger sizes can be shipped rolled only through paid special shipping.
During shipping, some creases on the canvas are normal & can be removed easily. Use some easy tips to remove wrinkles from your canvas. If in rare circumstances, the canvas is completely crushed or damaged and can not be used then company will compensate. To avoid creases, choose DHL or UPS Shipping for your order.
Custom paintings can not be returned or refunded. Please choose your custom painting size according to your custom photo carefully.

If you don't receive your order (excluding custom prints) in 45 days, Please contact us to file an inquiry.
Share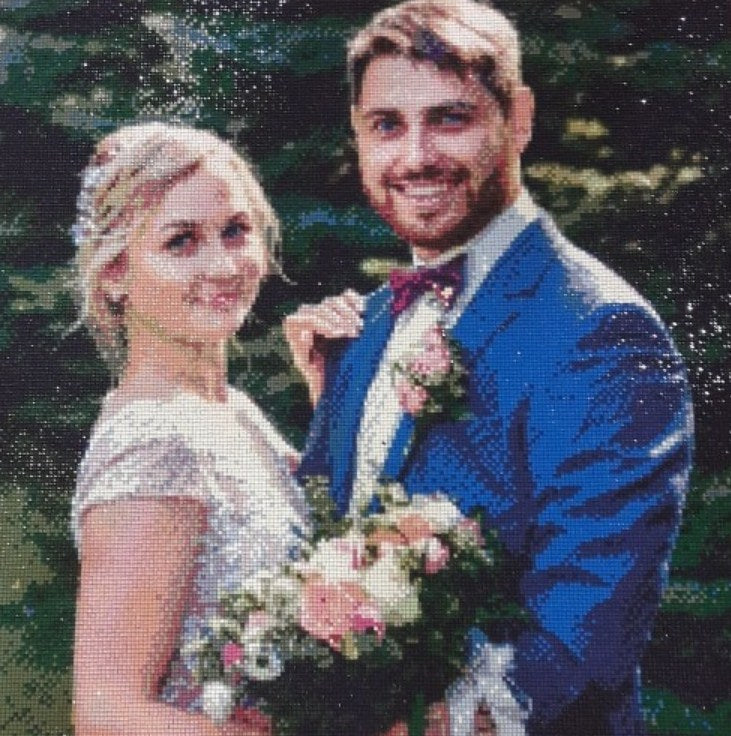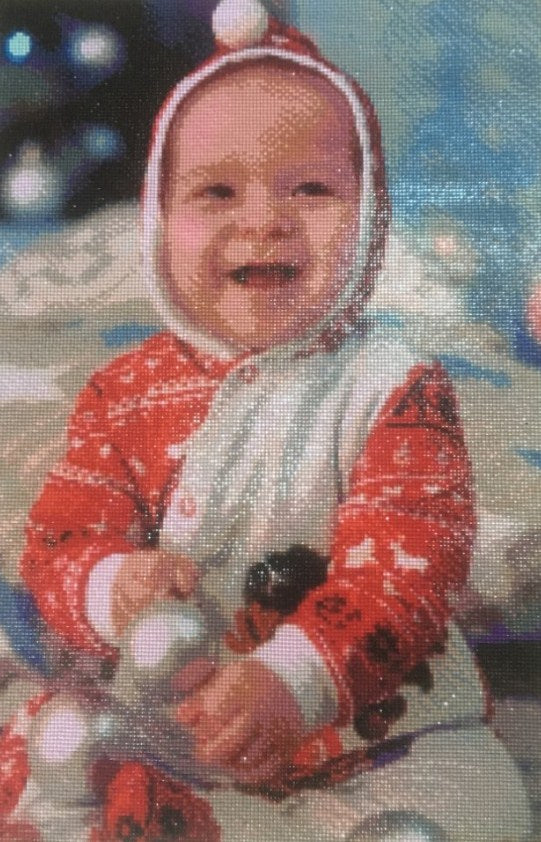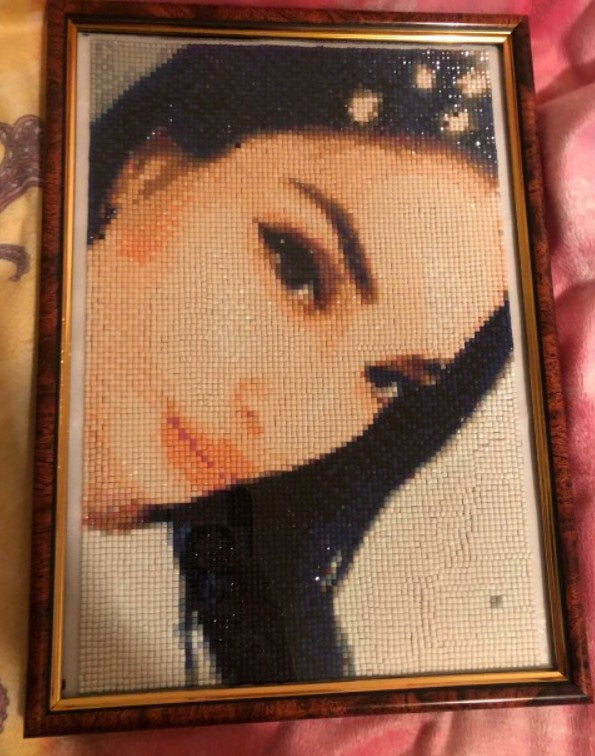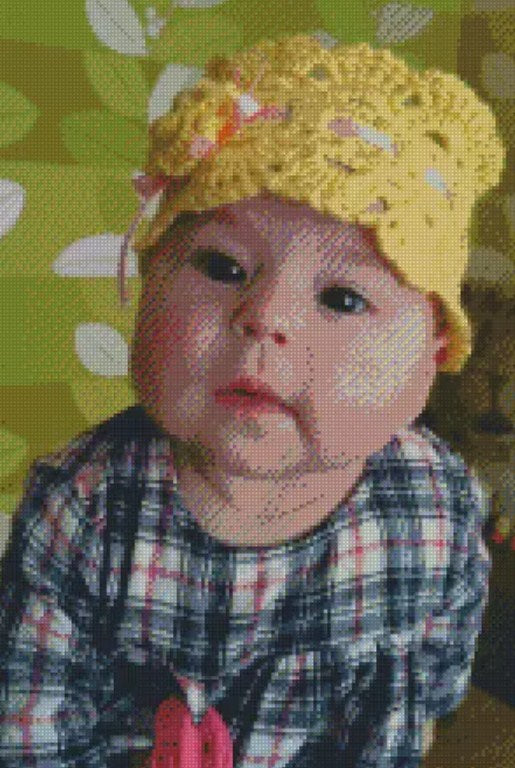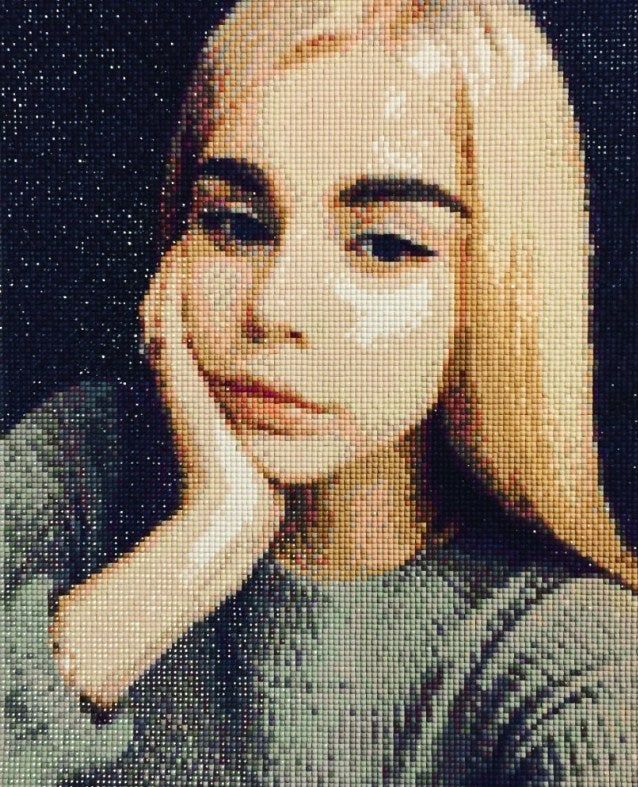 Transform Your Image Into Glittery Diamond Painting!
🏡 Get Your Order at Your Doorstep

Your custom order will take up to 7 days to dispatch after color correction, image enhancement, printing, and packaging. You will receive the order at your doorstep.

📤 Upload Picture

Upload photo that you want to convert into diamond painting from your computer or your mobile gallery. Choose the size you want for the DP and select the drill type (round or square). Add to cart and proceed to payment.

🆓 Order Free Previews

Work in collaboration with our expert designers for free color enhancement and color correction. We won't transform the image into a diamond painting until you are satisfied with the free preview.
Choose the Right Size For Custom Diamond Painting
If you choose a canvas that is too small, you may find that your finished artwork lacks the desired level of detail. Smaller canvases may not provide enough diamond drills to fully cover the picture, leading to a loss of vibrancy and nuance in the gradual shifts of color. To ensure that your diamond painting captures the full depth and beauty of the original image, we recommend selecting a canvas that is appropriately sized for your chosen design.
🔮 Choose recommended size, especially for images with pets and people. Well said by paint with diamonds custom diamond painting description: "Larger the size, better the details"

⭐ 1 person: 30x 40 cm
⭐ 2 persons: 40 x 60 cm
⭐ 3 persons: 60 x 80 cm
Choose Perfect Photo For Best Results
High-resolution Image: For the best results with your customized diamond painting, it's important to choose a high-resolution image. Blurry or low-quality images may appear more pixelated when translated into diamond painting, resulting in a finished artwork that lacks clarity and detail.
To ensure that your diamond painting is a true representation of the original image, zoom in on the picture to check for any blurriness or pixelation. If the image appears blurry or pixelated, it's best to choose another high-resolution picture that will provide the level of detail and clarity needed to create a stunning finished product.
Proper Lighting: Choose an image that is not captured in direct sunlight. Images that are neither too bright nor too dark will produce better results, accurately reflecting the original image with perfectly matched diamond resin colors.
Canvas Dimension: For optimal results, all images, whether in portrait or landscape orientation, should be matched with coordinating canvas dimensions. If a landscape image is placed on a portrait canvas, or vice versa, part of the image may need to be cropped to fit the canvas properly, resulting in a loss of detail or overall impact.
What Will You Get From Us?
📦 The Complete Package With All Accessories

💝 Premium Soft Velvet canvas

💝 Poured Glue - Say bye to double tape

💝 Every Kit has 2 or more AB Diamonds

💝 2 Trays for diamonds

💝 1 Tweezers

💝 2 Diamond Painting pens

💝 3 piece Multi-diamond applicators

💝 2 Pots of wax

💝 Instructions manual

💝 Sizes bigger than 30x40 are Box packed

🖼️ Want a Matching Frame?

Once you have completed your bespoke diamond painting, the next step is framing, unless you want to hide your beautiful hand-made artwork away in a cupboard.

To make the framing process hassle-free, we recommend ordering your frame along with your custom diamond painting. This not only saves you on shipping costs but also ensures that your painting will be perfectly suited to its frame, bringing out the full beauty of your artwork. Don't let your hard work go to waste – showcase your stunning diamond painting in a beautiful frame today!
How To Start?
Step 1

Start by unpacking your kit, organizing your diamond drills and tools, and unrolling the canvas onto your working surface.

Step 2

Pour the diamonds of one color into the grooved tray and use the wax-coated applicator to pick them up.

Step 3

Match the diamonds with the corresponding symbols on the canvas and press them into place.

Step 4

Once you've finished applying all of the diamonds, frame your beautiful artwork and display it with pride. It's that easy to create a one-of-a-kind masterpiece that will impress all who see it.
Why Our Custom-Made Diamond Paintings Are Better Than Others
👌 Free Photo Refinement

After receiving the image, we don't just run it through software to get the printed diamond painting. All Diamond Painting designers first analyze the image's imperfections diligently and thoroughly, eliminate all image flaws by manually adjusting brightness and shadows, optimize colors, and crop the image to focus on the main subject and match the canvas dimensions.
✅ Crop the image
✅ Fix image brightness & shadows
✅ Optimize colors & sharpening image

📐 Free Size Recommendations

Diamond painting sizes can be confusing! What if your custom diamond painting's size doesn't turn out to be good. While we believe in the bigger, the better, an extra-large image would take more time to complete and is useless if the image is simple with fewer color variations and not enough space to hang. Feel free to reach out to us for size recommendations.
✅ No wild-guessing of canvas size if you are unsure.
✅ Ask our designers about size recommendations for the image.
✅ Complete satisfaction

🎁 Team Up With Us For Free Preview

Getting the microscopic details of the image correct with matching vibrant colors, contrast, and no shadow is a feat to achieve. Band together with our experts to get the exact diamond painting your mind has imagined. Just send us a message to see the preview of your diamond painting to avoid any dissatisfaction later. We will make the necessary adjustments if you aren't satisfied with the preview.
✅ Crop the image.
✅ Fix image brightness & shadows.
✅ Optimize colors & sharpening image.
Why "All Diamond Painting" Kits Outshine Others?
✨ Better Bling: All Diamond Painting uses fine-cut diamonds with smooth edges and extra shine to sparkle your diamond painting. All the diamonds are cut uniformly to fit with the adjacent diamond without leaving a gap.
🍥 Velvet Canvas: Poor quality stiff fabric or plastic canvas has imperfections and wrinkles that don't flatten easily. Unlike other diamond painting manufacturers, we use the most desirable, soft, anti-wrinkle canvas that is now becoming the industry standard.
🧴️ Poured Glue: Cheap diamond paintings use double-sided tape that loses its adhesiveness and causes rivers and wrinkles on the canvas. We pour glue over the canvas, cure it in a compartment to increase the adhesiveness of the canvas. The result is your diamond drills won't fall off the canvas even after years later.
🧊 Clear Plastic Cover: Other diamond paintings have an opaque cover which means you will have to guess how the image will turn out. Our clear plastic cover over the diamond painting lets you see the entire canvas rather than only the section you are working on.
🤝 Lifetime Warranty: We offer a lifetime warranty for all our products. If you aren't satisfied with the diamond painting due to low-quality beads or canvas issues, you will get 100% money back.
🅰️ Easy to Read Symbols: The symbols on the canvas are handpicked to avoid confusion between similar symbols and add clarity. Our printing team ensures that printing on the canvas is clear and our high-resolution symbols are precisely printed and easily readable.
Designing & Shipping
✏️ Designing: The designing process, including all color correction, printing, and packaging, can take 7-8 business working days. Within 8 days your custom diamond painting will be ready to dispatch.
🚚 Shipping: Once your package has clearance from the quality assurance team and is packaged neatly, it is then delivered for dispatching. Dispatch time varies, depending on the destination. Check your destination under the shipping label to know how many days it may take to be delivered to your doorstep. If you don't receive your package within 60 days, contact our team to get a replacement for your diamond painting under free insurance.
Why Choose Us?
📨 Customer Support




We are proud of our remarkable customer support that remains active to address all issues and queries. In case of any question, return or exchange, feel free to reach out to us by using the "Contact Us" page. Our customer support team will reply to all your queries in a timely manner.





🛡️ Free Insurance




All Diamond Painting secures their customers' kits from kits lost during shipment, missed or mixed diamond drills from the package and back the kits by free accidental insurance. Our insurance extends to the accidental mix up of drills at home so you can finish your diamond painting in peace.





📝 Licensed Diamond Art

All diamond painting carries immense pride in enunciating our collaboration with renowned artists who bring you unique and exclusive artwork.
✈️ Shipping
Once you confirm your order, we will dispatch it within 2 business days. Shipment time varies, depending on the destination. Check your destination under the shipping label to know how many days it may take to be delivered to your doorstep. If you don't receive your package within 60 days, contact our team to get a replacement for your diamond painting under free insurance.