Eye of The Storm - Art by Eric Wilson
Experience the pure joy and satisfaction of indulging in a hobby that brings you inner peace and tranquility. Our delicate 5D diamond art kit provides the perfect escape, allowing you to drift into a state of relaxation and focus.
Immerse yourself in the soothing process of painting with diamonds and create a beautiful piece of art that you can be proud of. Get started today and unlock the transformative power of diamond painting. Start painting with diamonds now.
💎 "All Diamond Painting 2.0 kits" are the most upgraded kits around.
⭐ 2500+ reviews | Choose us now & thank us later
Gift the artistic masterpiece or décor your walls by choosing this or any other diamond painting from our aesthetic collection.
✔️Full-Drill diamond painting
✔️Equipped with all necessary tools
✔️Choice of Round or Square drills
✔️Free accidental insurance
✔️100% money-back guarantee
✔️24/7 Support via Email & Chat
Brace yourself for the "miracle" of Diamond Painting
What's Inside the Kit?

Premium Soft Velvet canvas
Poured Glue - Say bye to double tape
Every Kit has AB Diamonds
2 Trays
1 Tweezers
2 Diamond Painting pens
3 piece Multi-diamond applicators
2 Pots of wax (6 Wax Pads)
Instructions manual
Sizes bigger than 30x40 are Box packed
Shipping

Shipping is Free All over the World

Shipping times:

| | |
| --- | --- |
| United States | 12-20 days |
| Australia | 13-20 days |
| Canada | 14-20 days |
| United Kingdom | 14-25 days |
| Finland, Sweden, Norway | 12-20 days |
| France, Netherlands | 10-20 days |
| Rest of the World | 12-60 days |

 

Orders will take 2 - 3 days processing time before shipping. Custom orders can take 3 - 5 days processing time. Factors such as bottlenecks in shipping and delays at customs may impact delivery time. For a faster delivery of your order, we offer Paid Special Shipping as well.
Sizes bigger than 30x40cm are Box packed. Sizes bigger than 70x70cm cannot b shipped rolled under standard shipping so they are shipped folded & well packed. Bigger sizes can be shipped rolled only through paid special shipping.
During shipping, some creases on the canvas are normal & can be removed easily. Use some easy tips to remove wrinkles from your canvas. If in rare circumstances, the canvas is completely crushed or damaged and can not be used then company will compensate. To avoid creases, choose DHL or UPS Shipping for your order.
Custom paintings can not be returned or refunded. Please choose your custom painting size according to your custom photo carefully.

If you don't receive your order (excluding custom prints) in 45 days, Please contact us to file an inquiry.
Share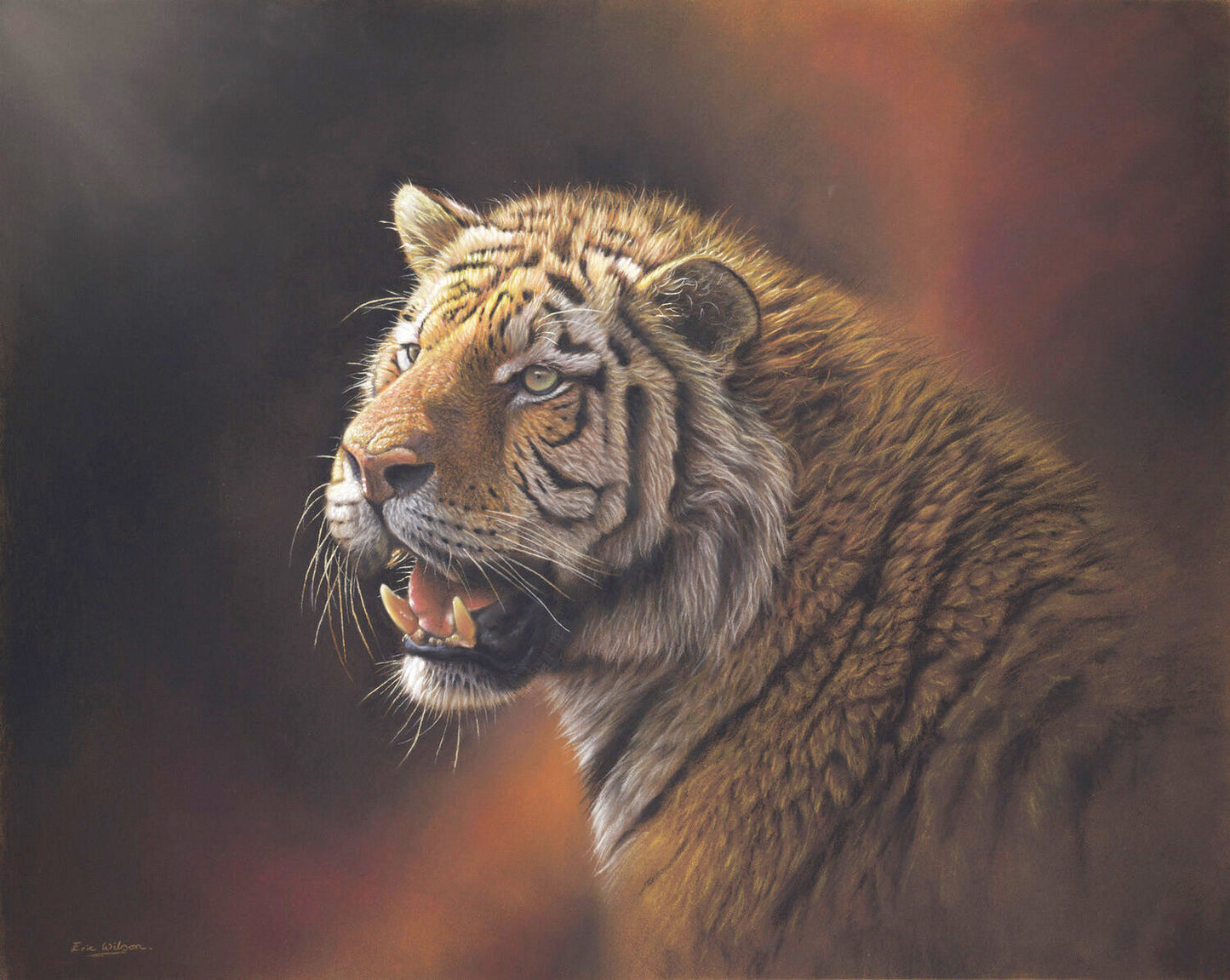 Choosing Size of Diamond Painting
Small Size

15x20 cm to 20x30 cm
💎 Beginner Level
💎 Less detailed Image
💎 Best for Single character / Object
💎 20+ colors 1+ AB diamonds

Medium Size

30x40cm to 40x60cm
💎 Intermediate Level
💎 Portraits landscape, nature
💎 2-3 Characters or objects
💎 30+ colors of diamonds
💎 2+ AB Diamonds

Large Size (BEST RESULTS)

45x60cm to 90x120cm

💎 Expert Level
💎 Complex & detailed images
💎 40-60 colors of diamonds
💎 4+ AB Diamonds
💎 3-5 Characters or Objects
We highly recommend selecting a larger size diamond painting when in doubt. Our larger diamond paintings provide more detail and vibrant colors, bringing your artwork to life.
Our upgraded diamond painting kits come equipped with all the necessary tools and high-quality materials to get you started on your project right away. With our comprehensive kit, you can achieve a satisfying and rewarding diamond painting experience.
What Will Happen When I Paint Diamonds?

💖 Diamond Painting makes you feel "relaxed".

💖 It scares away the "stress".

💖 Makes you feel "happier".

💖 Painting makes you "focus" better.

💖 It improves overall "mental health"

💖 Last but not the least, it enhances your "painting skills" because practice makes a man perfect.

 

*All above facts are Scientifically Proven.*

The Complete Package With All Accessories

💖 Premium Soft Velvet canvas

💖 Poured Glue - Say bye to double tape

💖 Every Kit has AB Diamonds

💖 2 Trays

💖 1 Tweezers

💖 2 Diamond Painting pens

💖 3 Piece Multi-diamond applicators

💖 2 Pots of wax (6 Wax Pads)

💖 Instructions manual

💖 Sizes bigger than 30x40 are Box packed
How To Start?
Step 1

Unpack the kit, organize diamond drills and tools, unroll the canvas on the working surface.

Step 2

Pour diamonds of one
color into the grooved tray. Dip the applicator in the wax.

Step 3

Pick the diamond from the tray with the applicator and stick it on the corresponding symbol on the canvas.

Step 4

Pair text with an image to focus on your chosen product, collection, or blog post. Add details on availability, style, or even provide a review.
Why "All Diamond Painting" Kits Outshine Others?
✨ Better Bling: All Diamond Painting uses fine-cut diamonds with smooth edges and extra shine to sparkle your diamond painting. All the diamonds are cut uniformly to fit with the adjacent diamonds without leaving a gap.
🍥 Velvet Canvas: Poor quality stiff fabric or plastic canvas has imperfections and wrinkles that don't flatten easily. Unlike other diamond painting manufacturers, we use the most desirable, soft, anti-wrinkle canvas that is now becoming the industry standard.
🧴️ Poured Glue: Cheap diamond paintings often use double-sided tape that loses its adhesiveness over time, causing the canvas to ripple and wrinkle. In contrast, we pour a high-quality adhesive over the canvas and cure it in a controlled environment to ensure maximum adhesion. This means that your diamond drills will remain firmly in place on the canvas, even years after you complete the painting.
🧊 Clear Cover: Our diamond paintings are better than others in that they come with a clear plastic film covering the canvas instead of an opaque paper. This allows you to see the entire picture from the outset, instead of having to guess what it will look like as you work on individual sections.
🤝 Lifetime Warranty: We offer a lifetime warranty for all our products. If you aren't satisfied with the diamond painting due to low-quality beads or canvas issues, you will get 100% money back.
🅰️ Easy to Read Symbols: The symbols on the canvas are handpicked to avoid confusion between similar symbols and add clarity. Our printing team ensures that printing on the canvas is clear and our high-resolution symbols are precisely printed and easily readable.
📨 Customer Support

We are proud of our remarkable customer support that remains active to address all issues and queries. In case of any question, return or exchange, feel free to reach out to us by using the "Contact Us" page. Our customer support team will reply to all your queries in a timely manner.

🛡️ Free Insurance

All Diamond Painting secures their customers' kits from kits lost during shipment, missed or mixed diamond drills from the package and back the kits by free accidental insurance. Our insurance extends to the accidental mix up of drills at home so you can finish your diamond painting in peace.

📝 Licensed Diamond Art

All diamond painting carries immense pride in enunciating our collaboration with renowned artists who bring you unique and exclusive artwork.
✈️ Shipping
Once you confirm your order, we will dispatch it within 2 business days. Shipment time varies, depending on the destination. Check your destination under the shipping label to know how many days it may take to be delivered to your doorstep. If you don't receive your package within 60 days, contact our team to get a replacement for your diamond painting under free insurance.